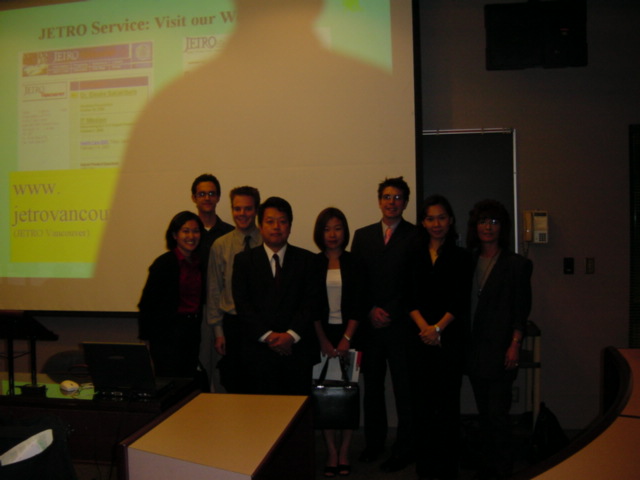 The Japan External Trade Organization (JETRO) held the first of its Getting to Know Japan seminars Monday evening at SFU Harbour Centre. Billed as a chance to learn about the current state of the Japanese economy and business environment, it was enough to entice an uppity crowd of APMCPers to get all dolled up and make a night of it.



We arrived to find a full house with people being turned away at the door. Luckily, all we had to do was smile and drop the magic word: APMCP. The waters parted and in we went knowing that if nothing else came out of this year, our tuition was money well spent.


The guest speaker was an economist, formerly of Japans ministry of finance, who promised to give us the secret story behind Japans economic woes and Koizumis proposed reforms. The crowd buzzed in anticipation. The APMCP contingent lit up: Finallyall the answers! The lights dimmed and the presentation began. It kicked off with an hour of charts and wildly erratic laser pointing, set to an impressive Power Point backdrop. The meat of it all was a macroeconomic overview of Japan and a discussion of the serious debt problem faced by industry and the banking sector. Next came a discussion of Koizumis 7-point plan to reform the economy and get Japan back up on its feet.


With that out of the way, the focus turned to JETRO itself and the many services it offers to those interested in doing business in Japan. JETROs mandate is to assist businesses that wish to export to, or set up shop in, the highly competitive and demanding Japanese market. With a staff of Japanese trade experts, JETRO can provide invaluable information on markets, sectors, business norms, legal and regulatory issues, contacts, etc. For those wishing to get on the ground in Japan, JETRO offers free office space for up to two months in many major cities. Here in Vancouver, an on-site library offers a wealth of business-related research materials.



After a photo session and the exchanging of business cards, the party moved to a nearby watering hole where talk turned to the inevitableBREAKDANCING! A good time was had by all and although the secret story is still somewhat of a secret, I think we all better people for having attended.


Chris Anderson
CME 2001 Annual Convention
Building for Tomorrow: Innovation and Productivity


(Montreal, Quebec) Canadian Manufacturers & Exporters (CME) 2001 Annual Convention was organized from September 23-25, 2001 at Le Centre Sheraton, Montreal, Quebec.

Building for Tomorrow: Innovation and Productivity was the theme of the convention. This message was delivered from the official opening by the CME incoming and outgoing chairs Ben Hume and Alan Curleigh.


Management Issues Survey and Economic Outlook

Dr. Jayson Myers Chief Economist presented the results of the 2001-2003 Management Issues Survey. The conditions in most industrial markets were weak and the economic outlook was uncertain after the September 11. The opinions from members addressing on key policy issues at federal and provincial government levels included public debt reduction, tax cuts and regulatory reforms. Skills shortage and quality workforce continued to be a real concern. Technical skills were difficult to attract and retain. The Canada-US border customs procedures should be streamlined as the survey revealed.

Cross- border Issues

After the tragic event of September 11, as a result of tightened security measures at the US- Canada border have led to costly delays at for movement of goods, services and people at border-crossings. A joint working group between CME and its American counterpart would be formed to resolve the issue of border bottlenecks. The above announcement was made by CME Vice President Mr. Michael Baroody during a panel discussion that included President and CEO CME Mr. Perrin Beaty, International Trade Minister Mr. Piere Pettigrew and National Revenue Minister Mr. Martin Cauchon.

International Trade Track Exporting to the US and Latin America

Trade Commissioners from DFAT (Department of Foreign Affairs and Trade) to the US and Latin America spoke about the overall picture of these markets (US, Mexico, Columbia, Venezuela, Ecuador, Peru, Brazil, Bolivia, Argentina and Chile) and provided some brief insights. Latin American markets are viewed as a strategy to diversify the export to several markets in the Americas instead of relying on one US market strategy.

Financing: An Essential Tool for Export Success

Ms. Ressa Shurgold, Director Trade Finance from Hong Kong Bank Corporation, Mr. Scott Shepard President and CEO of Northstar Trade Finance, Mr. Henri Souquieres Regional Vice President, Qubec & Atlantic, Export Development Corporation (EDC) and Mr. Mark Surch, Team Leader, Pre-shipment Export Finance from Canadian Commercial Corporation (CCC) presented to export companies the trade financing facilities available in the market places, ranging from the traditional banking tool of letter of credit to innovative financial products such as Progress Payment Program PPP from CCC and Term finance and Floor plan finance from Northstar.


Canadas Innovation Strategy

The conference continued to discuss about the importance of innovation for Canadian manufacturing and export industries that are crucial in maintaining the high living standards for Canadian people. Top priority issues and action plans for a national innovation strategy were addressed. Then the delegates were divided into small discussion groups to make specific recommendations with respect to what should be done to strengthen Canadas innovation at company levels.

Commenting on the results from the discussion group reports, Mr. Avrim Lazar, Assistant Deputy Minister Human Resources Development Canada (HRDC) highlighted the strategy to the human resources issues. Skill drives economy and create growth, he said. In addressing to the skill shortage, he presented buy and make skill strategy. Under the buy strategy Canada will continue to look for skilled immigration and integrate them into the workforce. With the make strategy Canada will look into the educational system and enhance the cooperation between business, academics and university which is now underdeveloped.

Mr. Andrei Sulzenko, Assistant Industry Canada also emphasized the need of convergence among business, government, academics and universities for more dialogues to make innovation happen. The 3 areas knowledge gap, skill gap and environment gap demand for an innovative federal government.

Quyen Nguyen